Last updated on November 22, 2021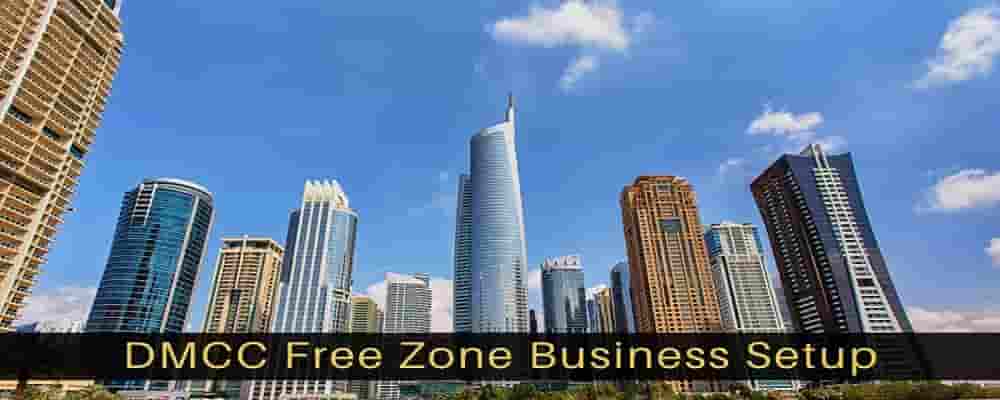 Dubai is known as the business capital of a UAE; and very popular in Middle East for trade and finance. But all this become possible because of its liberal economy and the Gov't high progressive in thought. Its broad base culture also adds extra value to Dubai; that is to attract foreign entrepreneurs for starting a company. These are not the only charms of Dubai. Dubai is rich with free trade zone where expat can hold 100% ownership of his business. DMCC free zone is one of them. Business setup in DMCC free zone is one of the core services which you will get from our firm.
DMCC business setup
DMCC free zone was start in 2002; since then it became one of the main free zone of Dubai; to offer trading in gold, pearls, diamonds, tea, cotton, minerals as well as in metals. Business setup in DMCC free zone can be in one of best business; because it is in the middle of the Dubai city. DMCC business setup will give you a touch of main land as it is in the center of Dubai. Like a main land DMCC business setup also allow shareholder from 1 to 50. It is a tax free, free trade zone.
Location of Business setup in DMCC free zone Dubai
DMCC business setup is more popular among the foreign investment; or another word we can say that DMCC free zone is paying a vital role; that is in the boosting of Dubai economy; that is by bringing more and more expat in the region. DMCC free zone is near to Dubai Marina as well as Mall of the Emirates; DMCC Free Zone is located in a lake front of JLT Towers; and is 12 minutes from Jebel Ali Sea as well as Air Ports. Also 10 minute drive from world trade center.
Advantages of DMCC business setup
Full foreign owner ship of business setup in DMCC free zone.
Zero tax, that is no personal income tax; as well as no corporate taxes
No restriction on capital repatriation; that is for business setup in DMCC free zone
You can operate out of privately develop properties
No duty for import as well as export
The most known and a key value of DMCC free zone; that is it has minimal paper work.
located in the heart of Dubai with access to two Metro Stations
Well organize online system for using gov't services
It is fastest growing Free Zone in Dubai.
It is also known as the best free zone by the global FDI Magazine
Flexible Office Solutions
World class infrastructure
DMCC Flexi desk
DMCC Flexi desk is a hot desk facility given in the Business Center of the DMCC Free Zone; so that to minimize the set up cost and get the license. It can be used up to 5 hours weekly for free of charge. DMCC Flexi desk allow getting only three UAE residency visas. If more visas are require, then the company needs to lease an office space; that is in the free zone. One visa can be obtain for each 9 sq / mt. of the office.
Also note that the DMCC flexi desk option is not available for General Trading License.
DMCC business setup license types
Commercial / Trading License
This type of a license allows to import; also an export, distribute, consolidate; and as well as store products that are specified in the license.
General Trading License
This type of a license DMCC business setup; allows to import, also an export; distribute, consolidate, and as well as store almost all types of products (except for few types of products).
Service License
This type of a license business setup in DMCC; allows to carry out service or consultancy activities that are specified in the license.
Business setup in DMCC free zone
You can do a wide range of business setup in Dubai DMCC free zone; that is in many sectors of business which range from Commodities; an Agriculture, a Mining, a Fishing, a Manufacturing; as well as Trading, a Consulting, a Construction, a Transportation, a Storage; also a Hotels, a Restaurants, an Education, a Healthcare; as well as Social work, Financial inter mediation; and also other community, social and personal services.
Business setup consultants DMCC
As Business setup consultants DMCC we provides an honest customer focus experience for our clients. We are one of the best Business setup consultants DMCC to provide services for business setup in DMCC free zone; we also provide services for Ajman Free Zone, IFZA free zone Hamriyah Free Zone; Dubai south free zone and RAK free zone.
As we know there are many firms in UAE which claim as a Business setup consultants DMCC. But there are two main criteria separate the good from the bad.
Honesty: we as Business setup consultants DMCC will always be 100% open and honest regarding any fees and charges. Unlike many of our competitors; we would not try to hide fee or charge too much on government costs just to increase our profit; and we strongly believe in full transparency. We also would not promote any services for a special cost which is lower than the actual amount you have to pay. Let suppose a service costs "start from" AED 4,000; when we know its price is AED 6,200; this is not only a dishonest but it also creates the incorrect impression. We always provide our customer full set of receipts so that the actual costs and fees are clear to them. Any way honesty and transparency is our best policy.
Service: a company is measured by the satisfaction of its customers. At Business setup consultants DMCC we do not just want our customers to be satisfied; we want them to be happy! We will favorably go the extra mile to make sure that each customer receives the maximum level of service; and the most frank, hassle free experience. If our clients are not happy then 100% we are not happy; so good service is our top priority.
Business setup consultants DMCC – We cover all the bases for you
Are you bold enough to follow the lead of the most positive people; and take the private enterprise dive? Then you will not find a better home to do that than the UAE. The country boasts one of the fastest growing economies in the glob and is developing so rapidly that all big name wish they established their branches here earlier. Nevertheless, the procedure of business setup in Ajman, Dubai and Sharjah, or any other state of UAE may be puzzling; leaving growing tycoons tight up in knots. This is where Business Setup Consultants DMCC comes in.
If you have a grand idea and are looking to turn it into a business setup in Dubai; then we are at your service. We have a team of highly skilled, devoted consultants; who aim to make things easier for his client in the UAE. Our services cover everything from doc's preparation to checking with the authority; and helping with visa applications. Thus, getting team up with our business setup consultants in Dubai is about to take hold of the golden opportunity; to focus on what matters to you while leaving all the details of company setup to professionals.
Benefits of working with Business Setup Consultants in DMCC
It does not matter that what is the area of your business; you want to make the most of the UAE's free zones, don't you? However, you may have a tough time to meet the terms with all the necessities out there; bearing in mind that each free zone has its own rules. Being with us, this will never be a problem for you!
Our experts will assist you to decide the proper company type; so that you can benefit from 100% ownership, sizable tax exemptions, and hassle free capital repatriation. We will apply for a suitable license for you and submit all essential documents to the DMCC on your behalf. Plus, we will take care of all approvals, so you do not even need to buzz a finger.
Setting up business in DMCC free zone
1: First of all in the first place decide about the type of company
Types of companies which are qualified for a license:
LLC which is one of the main form of entity with only one or more then one partner
LLC which is the subsidiary of foreign or also a local company
A Branch of foreign or a local company
2: Agree on the business activities according to your business plan
To form a company you need a license; the type of a license is depend the type of the activities. Whereas the license will be specific to the selected activities; a company can also apply for a general trading license in Dubai or for multiple licenses. We propose three types of licenses:
Trading license
Service license
Industrial license
3: Consider additional customized license structures
DMCC free zone also present other types of structures; such as Single Family Office that caters to centralizing the administration of a family's capital and their personal affairs; series of planning and holding shares in family businesses; trusts and assets as well as foundations. Furthermore, you can get an e commerce license in UAE; that make you capable to register an online business in Dubai; or a digital souk that promotes third party products and services; or offer transactions between the traders in shape of buyers as well as sellers in return they get commission.
4: Choose a company name
Please note, at this stage you need to select the name for the DMCC business setup; and also  you will need to provide particulars of an address inside of the DMCC Free Zone area; such as flexi desk or office space is one of the Business Centers.
5: Start your application
You can initiate your application by filling the online form; and one of our agents will be involved with you to take you through the application procedure.
DMCC Business Setup Fees
DMCC COMMERCIAL TRADING / SERVICE LICENSE
Initial Approval & Trade Name (one time)
AED 1,000
Registration Fee (one time)
AED 9,020
Memorandum Of Association (one time)
AED 2,000
License Fee (yearly)
AED 20,020
Auditors Appointment Letter (one time)
AED 1,000
TOTAL
AED 33,040